You ask, we deliver! That is our moto and we are really happy to keep delivering on it. This time, we are surprised with a really anticipating feature! You can now download a staging website, from WPRemote dashboard with a single click!
But, before we go deeper into that, let's first see some details about what is staging and how you do it! Even if you know that – never bad to open your mind to new ideas!


When you're ready to launch your new website, our staging site service is the perfect way to go. With this new feature, users can now download the staging that they have created through WPRemote Dashboard – ensuring that they have everything set up just the way they want it before launch. Whether you're looking for a test site to make sure all the functionality works correctly before going live with your new website, or you want to back up and store your site offline in case of disaster, our new download feature makes this process easy and convenient. So start planning your website launch today!

What Is a WordPress Staging Site?
WordPress staging sites are a great way for businesses to test new features or updates before they are released to the public. Through your WPRemote account can create and manage their own staging sites. This allows you to make sure the changes made don't affect the live website, and it makes testing more efficient. Businesses that release new content frequently can benefit from using staging sites – it's quick and easy to update all of the pages at once!
Why Set Up a WordPress Staging Site?
Testing new changes before they go live on the website can be a time-consuming and frustrating process. That's where a WordPress staging site comes in handy. It's a great way to collect feedback from your customers and stakeholders, and to test new changes before you hit the live website. To get started, simply choose the right tools and guidance and build your staging site in no time. Once you have it set up, start collecting feedback – it will help you make better decisions and improve your website's performance.
The Importance Of Developing Using a Staging Site
Testing website elements is an important part of developing a successful website. A staging site allows you to do this without actually launching the site live. This helps minimize potential mistakes and ensures that your website functions perfectly from the get-go. Apart from testing, staging also lets you tweak the look and feel of your site according to your preferences.


And now, let's go deeper into our new release!
Download Staging Web Site: You asked – we delivered!
Using the Download Staging functionality is a really easy step – by – step process.
First, at your staging widget, you can click to see details. You are then on the next screen, where you can see the new icon that represents the specific functionality.
When click, you start through an easy click-and-go process where in the end, you see a screen like the following and that is it, you are done! Download now your staging to keep it as a backup, use it for migration purposes, or anything else that can come up to you!

Note: If you are downloading the staging website to have a backup always in place, we still suggest for you our Backup system. It is powerful enough, to trust your business.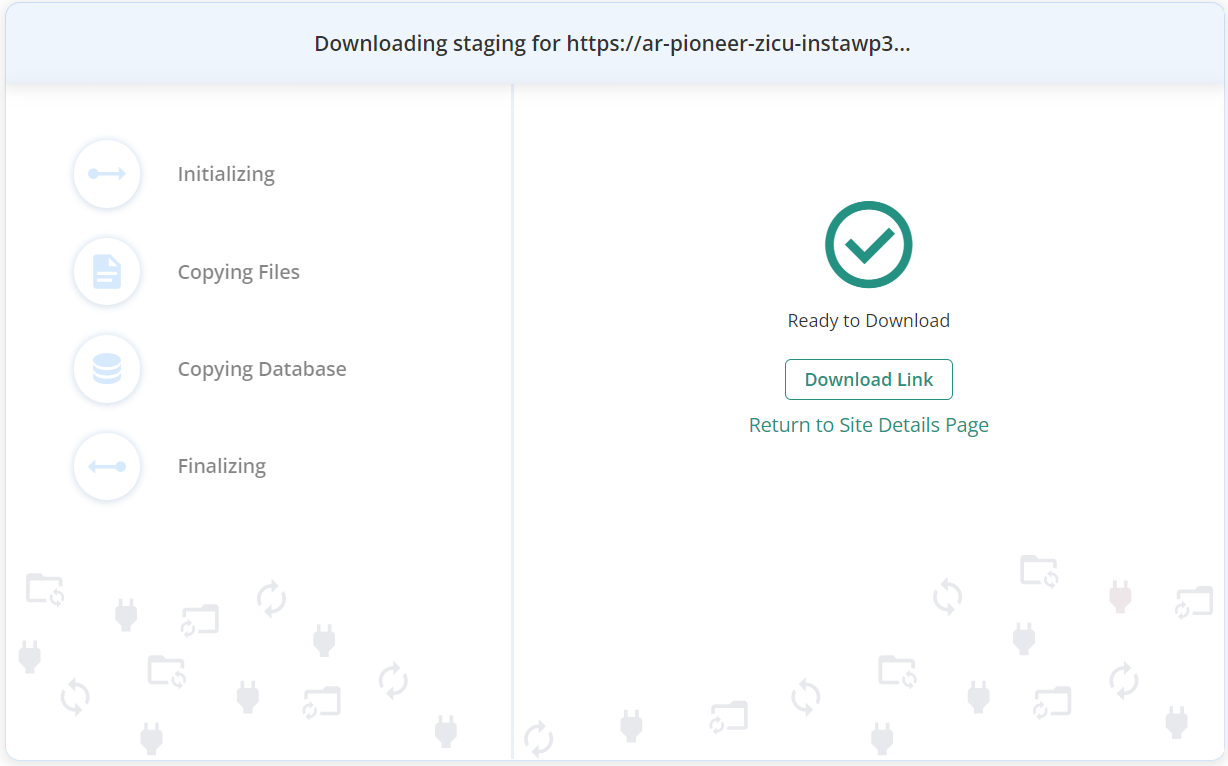 Conclusion
We're excited to announce a new feature that will make the staging feature even more powerful! Now, our users can download their own staging website, complete with live content and all the changes you make. This is a great way for you to test new ideas or changes without worrying about downtime or losing site functionality. Plus, you can keep your staging site up-to-date with the latest changes without having to worry about hosting costs. Make sure to download your staging website today and start testing your website ideas!